Bilfinger - Engineering and Service
Bilfinger SE is a leading international engineering and service group. With comprehensive technological know-how and the experience of 70,000 employees, the company offers customized services for industrial plants, power plants, real estate and infrastructure.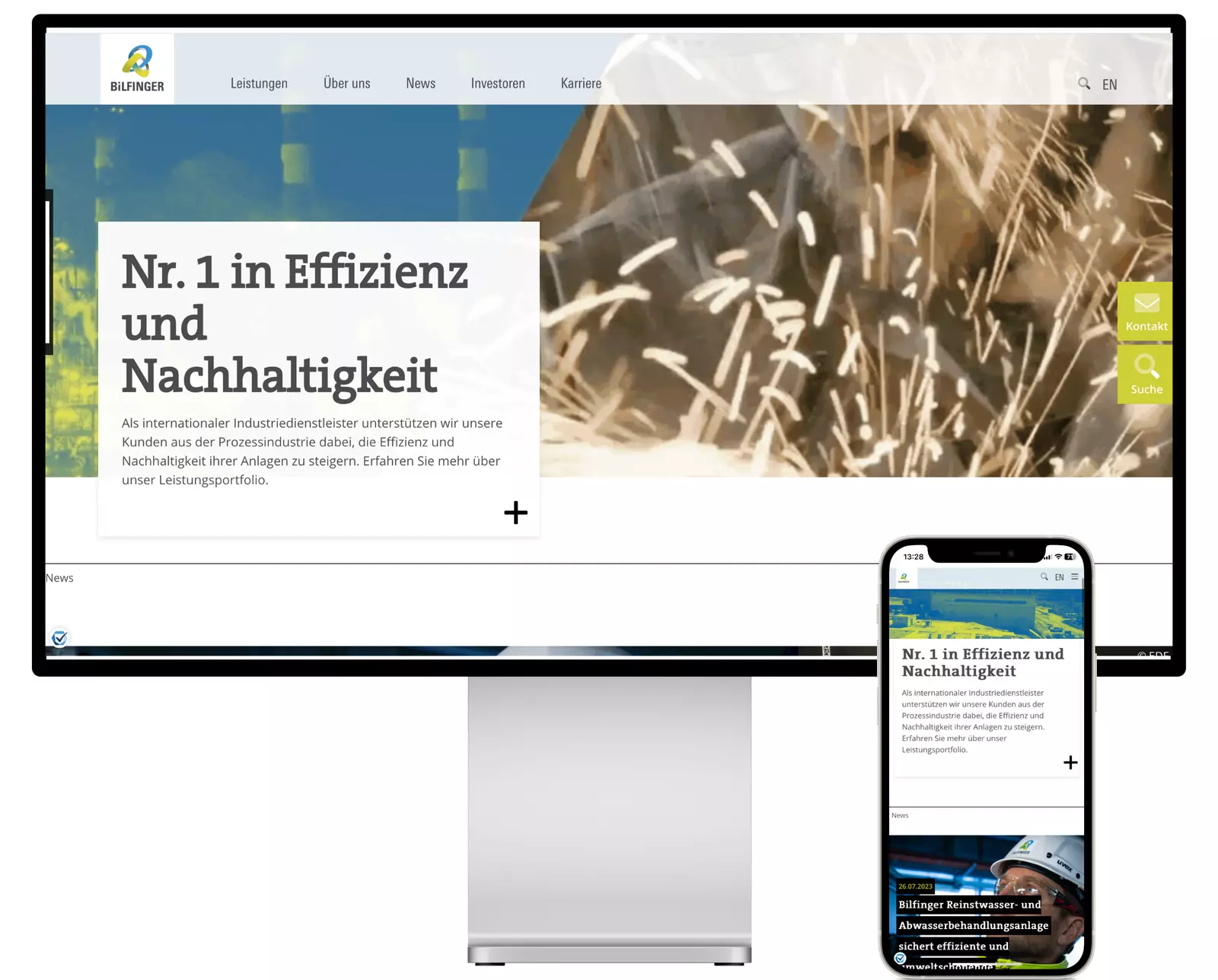 Over 30 individual Modules
... for TYPO3 help the editors to distribute content to visitors in a very targeted way - and without a lot of time and effort. The whole thing applies to all conceivable end devices such as smartphones, tablets or desktop PCs.
The extensive technical implementation of the relaunch of the corporate website by in2code included the complete conversion from Notes to TYPO3, both the website and the intranet and extranet.
Over 30 specially developed modules are used to create the individual pages and can be flexibly positioned and provided with content by editors.
An extension or an update is possible at any time, thanks to the independent HTML basis of each module.
Modern standards such as Responsive Webdesign, i.e. a page that can be optimally adapted to all common screen sizes in resolution and presentation, or the support of several languages, in this case 17 different ones, naturally have their place in all instances.
The website offers content in 17 languages
Visitors from all over the world are served via the bilfinger.com website. TYPO3 delivers content in 17 different languages.
The ideas and findings from the previous project phases are implemented in the development. All our techniques and guidelines have only one goal: to increase quality and scalability for a sustainable project.
So that you can concentrate fully on your project, we offer you a comprehensive range of infrastructure services. No matter whether at your site or at our data center.
Distribute a specific software version to one or more servers at the push of a button. With a well thought-out deployment optimized for the respective project, we enable those responsible for the project to do this. As a perfect partner for zero downtime deployments and automated tests, breakdowns are a thing of the past.
Often the requirements for web presences change on a daily or weekly basis. We are happy to assist you with specially tailored support. With a support agreement we guarantee a personal contact person who knows the project and advises the client, as well as fast response times.