Since our foundation, the Stadt Rosenheim has been the home of in2code and, with a population of around 64,000, it's the third largest city in Upper Bavaria after Munich and Ingolstadt. With its scenic old town, direct connection to the Bavarian Alps and the many associated outdoor activities, it is not just for us the perfect place to be. We were very happy about the assignment, because it's a special honour for us to be able to call our hometown also our customer.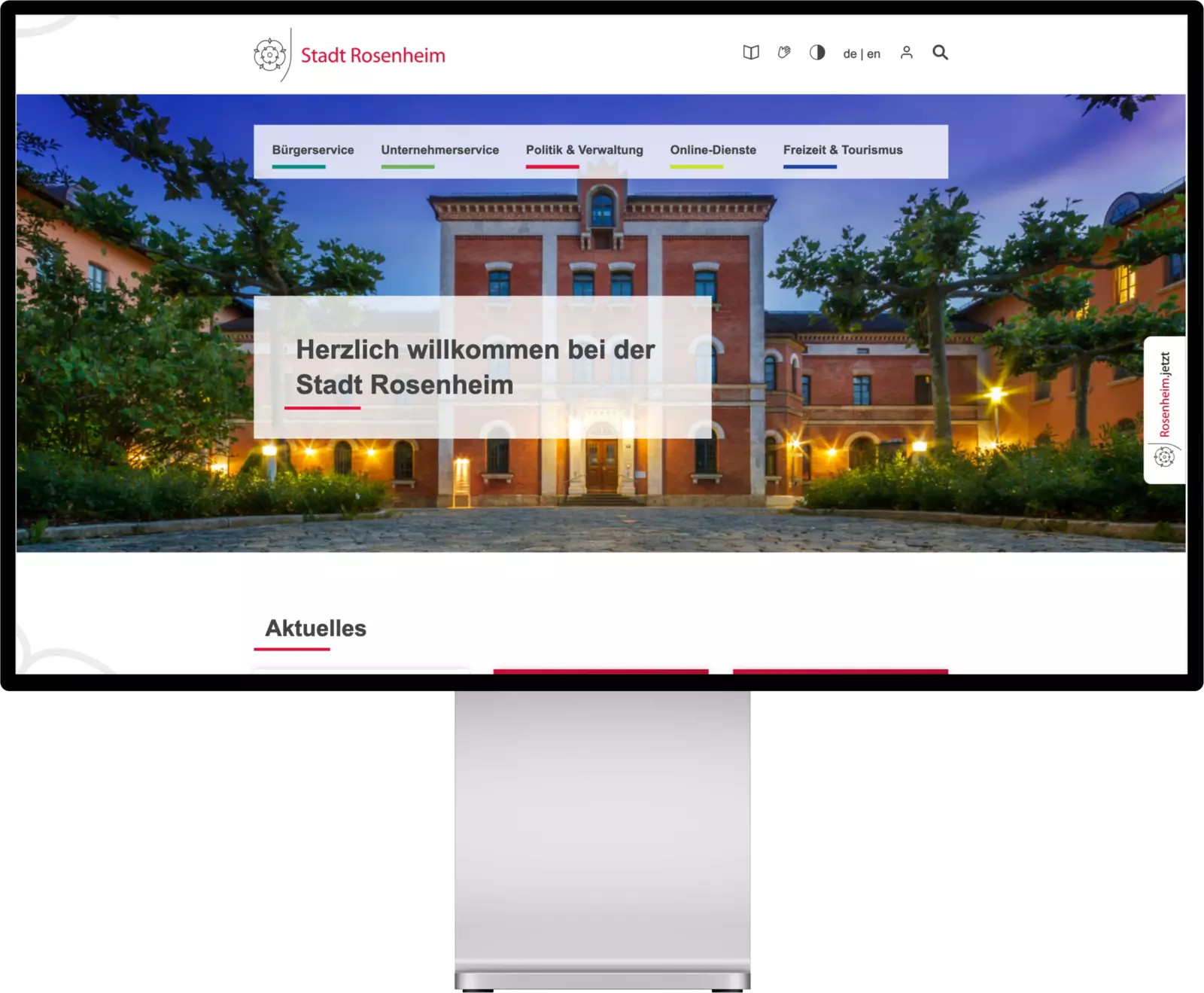 Central contact point for all citizens
The website of the City of Rosenheim plays a crucial role in providing information and services. Here it is very important to avoid confusing accumulations of documents and content. Because with such a broad spectrum of tasks, a structured and thematic information architecture has first priority and requires a well thought-out concept.
Among other things, the city of Rosenheim deals with topics for:
Services and forms | Events and culture
City development | Spare time and tourism | Economy and jobs
Education and schools | Health and social services
Traffic and mobility | Contact options | Accessibility
Improved usability and design
The overall appearance of the website and its elements was outdated and seemed that no visual and content updates had been done for many years. This should be changed now! But what would a good design be without a good user journey? First, we had to rethink the concept. So we developed a new navigation guide and decided together on a tile navigation, which focuses on the different areas of city life and should quickly provide relevant information to the citizens. Above all, a responsive, low-barrier presentation was important, in which we showed courage for spacing and larger fonts.
The integration of an efficient search function was a particular wish of the city, as the website is very expansive due to the many offices and departments. Because of its powerful search and faceting functions, as well as its smart handling of large amounts of data, Solr is a popular solution for us as a search engine. It allows content and documents to be found quickly using full-text search and filtering. It also offers comprehensive options for customising the relevance rating of search results.
All contact points at a glance
The website serves as a central contact point to inform citizens about important matters, activities and services of the city and to make it easier for them to communicate with the administration. In addition, they should know about all locations of relevant contact points. An interactive map allows them to find them intuitively with the help of filters. This includes, for example, schools, public buildings, health facilities, parks and much more.
To support the project team editorially, we manually entered all new content into TYPO3. Using a defined feedback process, we were able to continuously complete topic blocks and the team was always kept up to date. Thus, all content was integrated within a few weeks and ready for the relaunch.
Parking garage full? No problem!
In addition to the map, a parking guidance system was implemented, which specifically provides information about all usable parking options and their availability. An interface displays the number of free parking spaces in the car parks of the city of Rosenheim directly on the website, up to the minute. This means that citizens are always up to date on all parking options in the area.